WHY TRADEPORT
ISO 9001:2015 CERTIFIED
QUALITY STANDARDS, CONSISTENT RESULTS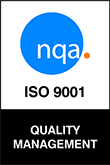 Our procedures are documented and our quality is constantly measured. TradePort has adopted an efficient Quality Management System (QMS) that save time and cost, improve efficiency and enhance vendor and supplier relationships.
Benefits to our suppliers:
Well defined and documented procedures improve quality and consistency of output
Quality is constantly measured
Procedures ensure corrective action is taken when defects occur
Defining procedures identifies current practices that are obsolete or inefficient
The result is that TradePort's operation is more efficient, our production costs are lower and we can focus on returning a higher investment to our suppliers.
REVERSE SYNERGISTICS™ PROGRAM
A process has been established so all national retail locations, in addition to distribution centers, inventory, track, palletize and ship items to TradePort on a continual basis.
MINIMIZE ENVIRONMENTAL IMPACT

MAXIMIZE ROI!
Contact us today to learn how TradePort can help your business.