WHY TRADEPORT
LEAN PRINCIPLES
CONTINUOUS IMPROVEMENT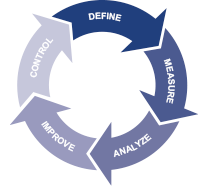 The core idea of Lean is to maximize customer value while minimizing waste. TradePort has created a business environment based on Lean principles that not only allow for the professional growth of our employees, but supports the attainment of TradePort's overall strategic objectives.
Completed warehouse Systematic Layout Planning (SLP) resulting in an increase in material flow with the least amount of handling
A 40% increase in warehouse space combined with work in process (WIP) reduction resulted in increased capacity and throughput of material
Implemented a 5S System to achieve and sustain a clean, safe and organized workplace resulting in improved quality and work standardization as well as employee morale
Completed Value Stream Mapping resulting in identifying "waste" within our processes, drawing a blueprint for Lean transformation and prioritizing activities required to achieve the Future State
The result is that TradePort has decreased costs and increased customer value. An increase in efficiency translates to a better ROI for our vendors and suppliers.
RETURN TO VENDOR PROGRAM
Well-established distributors can focus on sell-through, keeping their national and international suppliers happy and providing excellent service to their customers without worrying about warranties and inventory bottlenecks.
MINIMIZE ENVIRONMENTAL IMPACT

MAXIMIZE ROI!
Contact us today to learn how TradePort can help your business.