IT ASSET DISPOSITION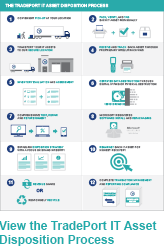 TradePort provides IT Asset Disposition services for companies interested in redeploying, remarketing, or recycling their end-of-life IT equipment. We understand the importance of partnering with a trusted IT Asset Disposition service provider, we are committed to achieving the maximum return on investment, while guaranteeing their security throughout the process. Every step of our LEAN service is committed to processing your IT assets efficiently and securely, from time of pick up to the final disposition plan. The TradePort IT Asset Disposition services provides numerous benefits to our customers, including:
Lower logistic costs and handling using our centrally managed location
LEAN chain of custody and reporting provide our partners with a clear understanding of their assets processed
Peace of mind, all hard drives and memory storage systems are completely wiped or destroyed before final disposition.
Maximum Return on Investment using our well established consumer sales channels and broker channels.
Alternative disposition paths to repurpose your equipment

DEPOT PROGRAM
TradePort provides the audit-ready reporting and ROI to help their partner be successful and realize triple-digit growth in one year.
DISCOVER THE HIDDEN VALUE OF SURPLUS INVENTORY -
START INCREASING YOUR
BOTTOM LINE NOW!
Contact us today to learn how TradePort can help your business.