PARTNERS
REVERSE SYNERGISTICS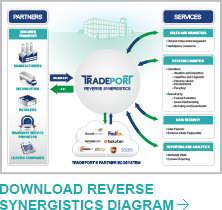 TradePort's expertise lies in consumer electronics asset recovery, reverse logistics, merchandising, and marketing. We've spent the last decade helping retailers, manufacturers, and distributors recoup their investment on returned, open box, distressed, and overstock consumer electronics products. We have the capacity to manage large volume for every product range and condition. Partner with TradePort to help manage the retail reverse supply chain so that you can focus on your core business - selling product to customers.
ABOUT TRADEPORT
Who We Are
For a decade, TradePort has offered an outsourcing service for asset recovery, third-party logistics, and reverse logistics for consumer electronics.
FOCUS ON WHAT
YOU DO BEST -
LET TRADEPORT HANDLE
THE BACK-END.
Contact us today to learn how TradePort can help your business.