At TradePort in Somersworth, Ayotte Renews Pledge to Block Online Sales Tax
Kelly Ayotte | Senator for New Hampshire
09/04/2014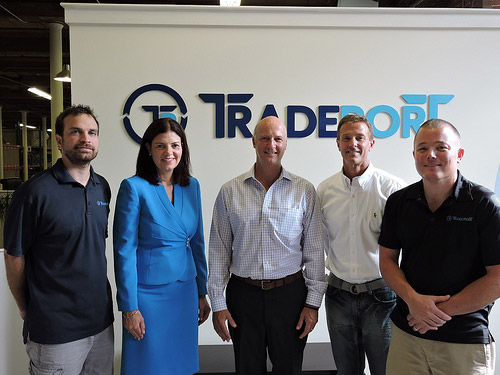 U.S. Senator Kelly Ayotte recently visited TradePort in Somersworth to discuss her ongoing efforts in the Senate to combat online sales tax legislation and her support for the Internet Tax Freedom Forever Act. TradePort employs approximately 16 New Hampshire workers, and works to improve their client's supply chain through excess inventory recovery, reverse logistics, merchandising, and marketing.
"I enjoyed the opportunity to meet with workers at TradePort's and learn about their innovative business," Ayotte said. "It's crucial to ensure that New Hampshire businesses like TradePort won't be subjected to burdensome online sales tax requirements, and I'll continue to lead the fight against this harmful tax scheme. I'll also continue to fight for permanently extending the moratorium on Internet access taxes, so that TradePort and other businesses can keep using the Internet to drive e-commerce, grow their businesses, and create jobs."
Ayotte has led the fight in Congress against the mis-named "Marketplace Fairness Act," which was reintroduced earlier this year in the Senate and would require Internet businesses to collect sales taxes for nearly 10,000 jurisdictions across the country. Because New Hampshire is one of five states with no sales tax, Ayotte has worked diligently to protect New Hampshire Internet businesses from being forced to collect sales taxes. She has previously introduced bipartisan legislation expressing the sense of the Senate that no federal legislation should give states the authority to impose any new burdensome or unfair tax collecting requirements on Internet businesses and entrepreneurs.
About TradePort:
For a decade, TradePort has offered an outsourcing service for asset recovery, third-party logistics, and reverse logistics for consumer electronics. Our New England warehouse and headquarters offers reverse logistics, consumer electronics test and repair, manufacturer warranty negotiation, Internet marketing and resale.
We have established our own quality standard for preparing merchandise for resale called TradePort's Product Evaluation Process (PEP). Our expertise lies in consumer electronics asset recovery, reverse logistics, merchandising and marketing. Our trade-in and recycle program delivers value to your customers by providing sustainable options while being environmentally responsible. TradePort is ISO 9001 : 2008 certified. For more information visit: www.tradeportusa.com
Media Contact:
Allyson Kimball, Director of Marketing & Communication
TradePort
22 Canal Street, Suite 125
Somersworth, NH 03878 603-692-2900
akimball@tradeportusa.com
TradePort
MINIMIZE ENVIRONMENTAL IMPACT

MAXIMIZE ROI!
Contact us today to learn how TradePort can help your business.